Home
Communities
Rio Rico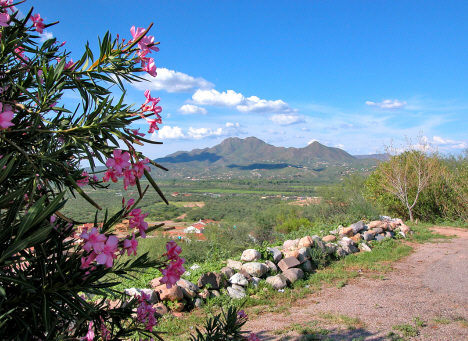 Rio Rico, Arizona is a planned community, comprised of 39,000 acres that roll gently down from the Santa Rita Mountains through the San Cayetano Foothills, westward to the Santa Cruz River. Situated 12 miles north of Nogales, the area around and including Rio Rico was once part of the Baca Float, a tract of acres granted by the U.S Congress to the heirs of Luis Maria Baca as the result of an early land grant from the Spanish government.
Recent developments in Rio Rico revolve around preservation efforts. In 2004, The Villages of Rio Rico finalized a deal with Arizona State Parks to donate 226 acres of Rio Rico property for use as an Arizona State Park. The donated property connects Patagonia Lake State Park to the Santa Cruz River through the Sonoita Creek and ends at Rio Rico. This important streambed contains a number of endangered species, including the rare elegant trogon, and more than 27 registered petroglyphs from the Hohokam period.
The Calabasas Mission Ruins, located in Rio Rico, were dedicated to the National Park Service in 1997, and a large cottonwood forest and the ruins of the mission of Guevavi lie on Rio Rico soil as well.
Rio Rico is a predominantly family-oriented town. Homebuyers from both sides of the US-Mexican border have been settling here in recent years, and many out-of-state residents (particularly Californians) have been attracted to the town as well. A large segment of Rio Rico's residents include local educators and produce industry employees. To accommodate the town's recent population expansion, plans for an additional high school are in the works.